BIENVENUE
Loko Sport Evenements : La meilleure façon de découvrir les plus beaux stades européens.
Remember this
What a beauty of a goal !
Nantes-PSG - 08/19/1994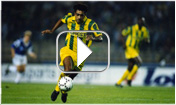 Albums - Your photos
Different parties proposed aimed specifically at entrepreneurs wishing to thank the loyalty of their best customers or employees.
They will have the privilege to share a relaxing evening warm and friendly personality alongside the sports world on the occasion of a prestigious sporting event.
All the albums